Loving Out Loud: Simple Keys to Building a Healthy and Sustainable Relationship
By Paula M. Smith M.Div., MFT
Building a healthy relationship requires making a critical shift in how you think about relationships. Instead of asking, "what can I get from this relationship," ask, "what can I give to the relationship."  Relationships are about giving and receiving. Therefore, by making this shift, individuals can begin taking responsibility for the tone and quality of their relationships.
Contrary to popular myths no relationship is without conflict, nor, is there such a thing as a "conflict-free" relationship. Thus to build a healthy relationship it is crucial for both partners to recognize their role in the conflicts and take responsibility. Individuals begin the process of resolving conflict by using "I" statements.  This technique will help individuals take responsibility while minimizing blaming.  For example: I feel __________ when you _________ because _____________.
Otherwise when statements feel to blaming to the other person, most often they will become defensive.
 How to Resolve Conflict in Relationships
Partners will get into conflict typically because they see, think and feel differently about things. Any relationship is only as successful as the conflict/stress it can hold.  What I mean by this is, your relationship will get unstuck and/or you will be able to resolve conflict when:
You learn to tolerate being wrong or that you realize that don't have to be right all the time.
When you can tolerate the emotional stress of your individual differences, i.e., recognize that you and your partner are not the same, and accept the differences between you. And recognize that subjectivity by nature is non-transferrable.
Settle relationship conflict in ways that you both can evolve toward being more authentic.
I believe today's popular conflict resolution and anger management approaches has it all wrong. The challenge is not to manage conflict and anger, but to understand its call to action. Conflict calls us to step up, and take responsibility for our role in the conflict and ultimately determining the outcome we both want. Because, when you are blind to the real causes of conflict and anger, you are blind to the fact that you have a choice.  And whether you realize it or not, you always have a choice.
 Building a Healthy Relationship by Embracing Fear
What blocks many of us from building a healthy and thriving relationship is our fear. What makes us so fearful in relationships? I believe that what frightens most of us is recognizing and accepting that the other person has equal value as us. Why? If we recognize and accept this, then we have to admit that we are not the center of the universe. Our fear becomes triggered by our partner's request for equality—for equal space, equal treatment, equal power and legitimacy.
It's human nature to get scared and when we are afraid our natural instinct is to try to change our partners instead of adjusting our expectations. This is what keeps therapists, healers and coaches in business. The road to a building a healthy relationship is accepting that you will need to improve your own responses in relationship i.e., how you think about it, and what you do and how you behave in the relationship. Very few people want to focus on improving their behaviors and responses.  It's more common for to build evidence for why others should do all the improving.
But here's the deal! I like saying this because it is true: You can't change your partner. Your partner cannot change you.  You can, however, influence each other, but that doesn't mean you can change each other.  Becoming a more effective partner is the most efficient way to create and sustain a relationship.  So what do you need (notice I didn't say want) to change in order to have a build and sustain healthy relationship? When you and your partner are in conflict instead blaming and complaining, ask yourself this, "what kind of person do I aspire to be in this situation?" Answer this question honestly and not only be on your way toward a long-term, sustainable relationship, but also your view of yourself and your life dramatically changes.
 Reprinted with permission.
Paula M. Smith M.Div., MFT; Certified Imago Therapist and Marriage, Child & Family Therapist
Website: www.paulasmith-imago.com    imagopaula@gmail.com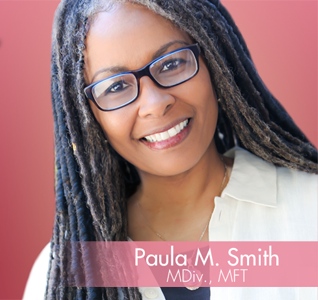 Please share your comments below.  I would love to hear your thoughts.